This past year I have been working on tightening my character design skills while working on the Garrison the Stronghold book. I wanted to give the look of my characters a more animated children's book quality with simple shapes and lines, deriving inspiration from "The Art of…" Disney books such as Zootopia and Big Hero 6. while looking to Stephen Silver and his work for guidance on character design processes. I have also drawn inspiration from my own works including Gadget Boy, another faith-based story I created based on a boy and his family in 2005-2006, and The Billy Black and Trouble Show, a comic strip I worked on in 2009-2011 with similar characters, Billy, Beah and Trouble the Cat, but drawn in a more rough, loose style. Here are some of of the older works, see if you can spot some of the similarities.
There are four chapters in the book, the first chapter line-up includes our main characters; Garrison (The Stronghold) Strong, and his parents Billy and Beah Strong, his sidekick Trouble the Cat, and Michael the Archangel, a friend and guide in the first chapters of the book.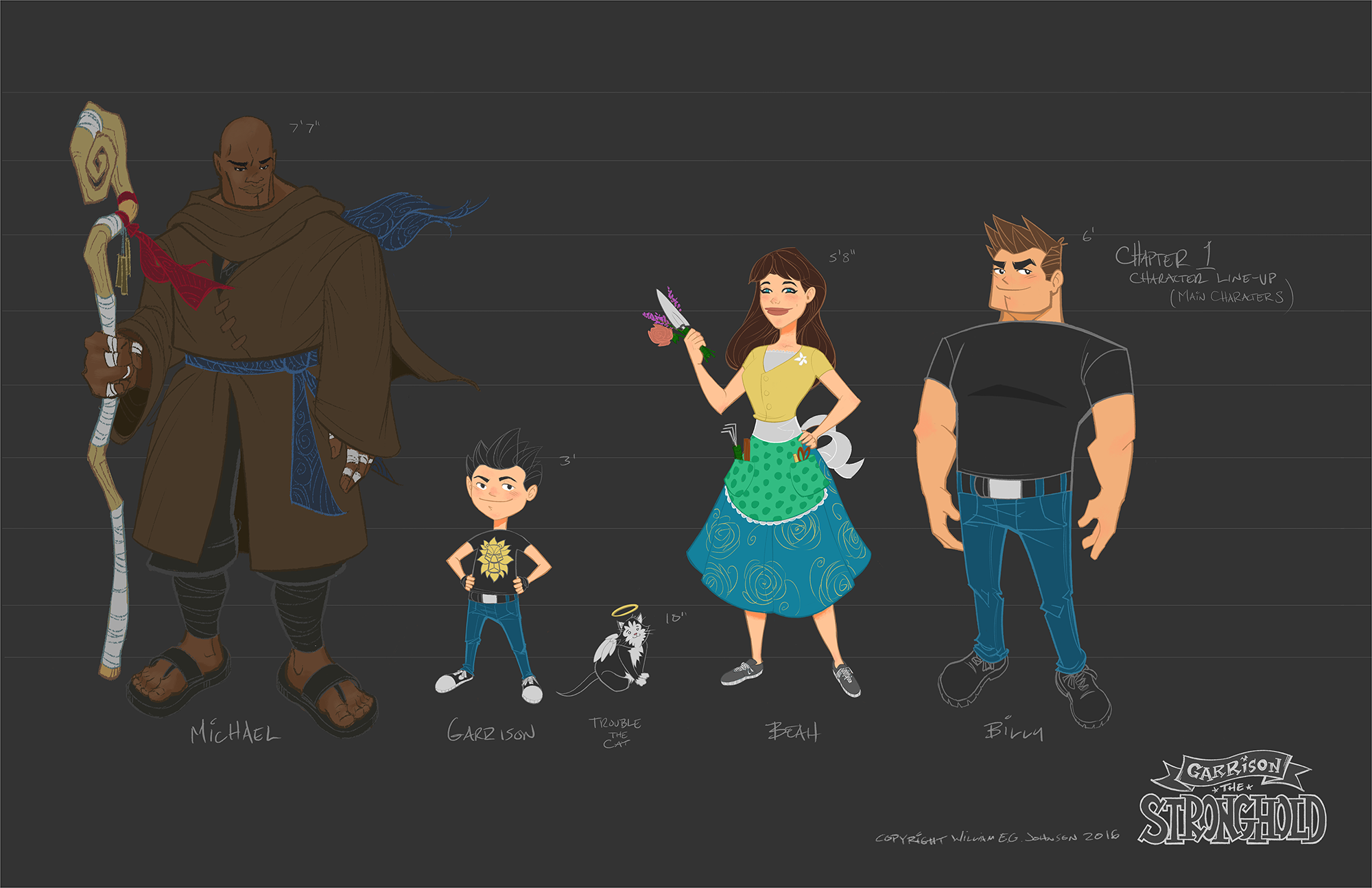 In character design, I've learned how important it is to put characters in a line-up relationship to one-another assure correct scale as well as having consistency in style. Doing this early, even if it's loose, will keep me from having to go back and revise the characters again and again. Keeping them at a resting position at a three quarters turn, or straight on, allows me to best describe the character so that I can see the full form of them for reference, without any distortion from body movement or facial expression, later on.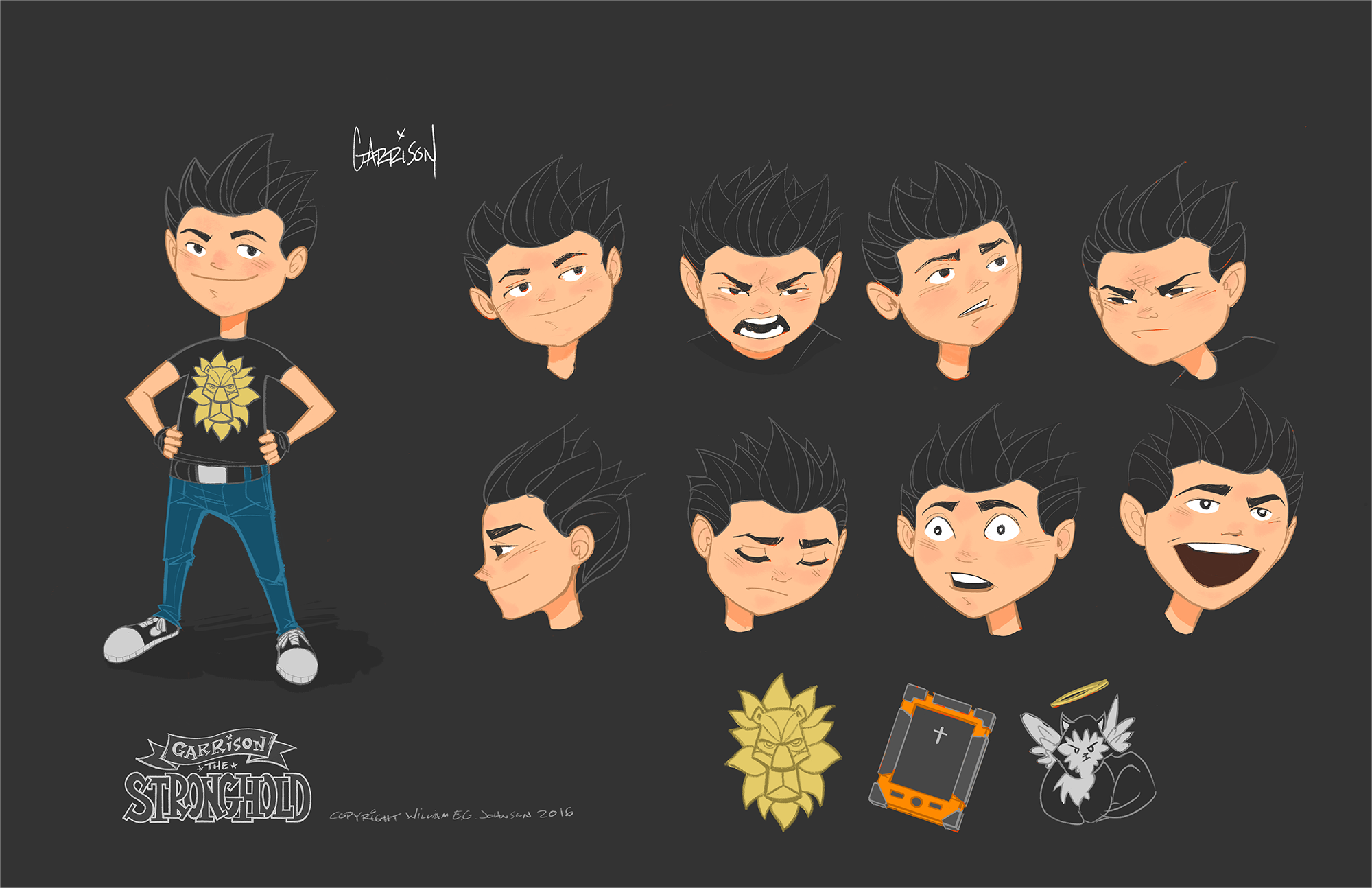 Our hero of the story, Garrison is deeply loving, loves to laugh, and is unusually strong physically. A middle-grade kid, not-quite 10, but old enough to get out and adventure and begin understanding his feelings more, Garrison must learn to become stronger on the inside to match his outer strength. His lionheart t-shirt is symbolic of the story's key message.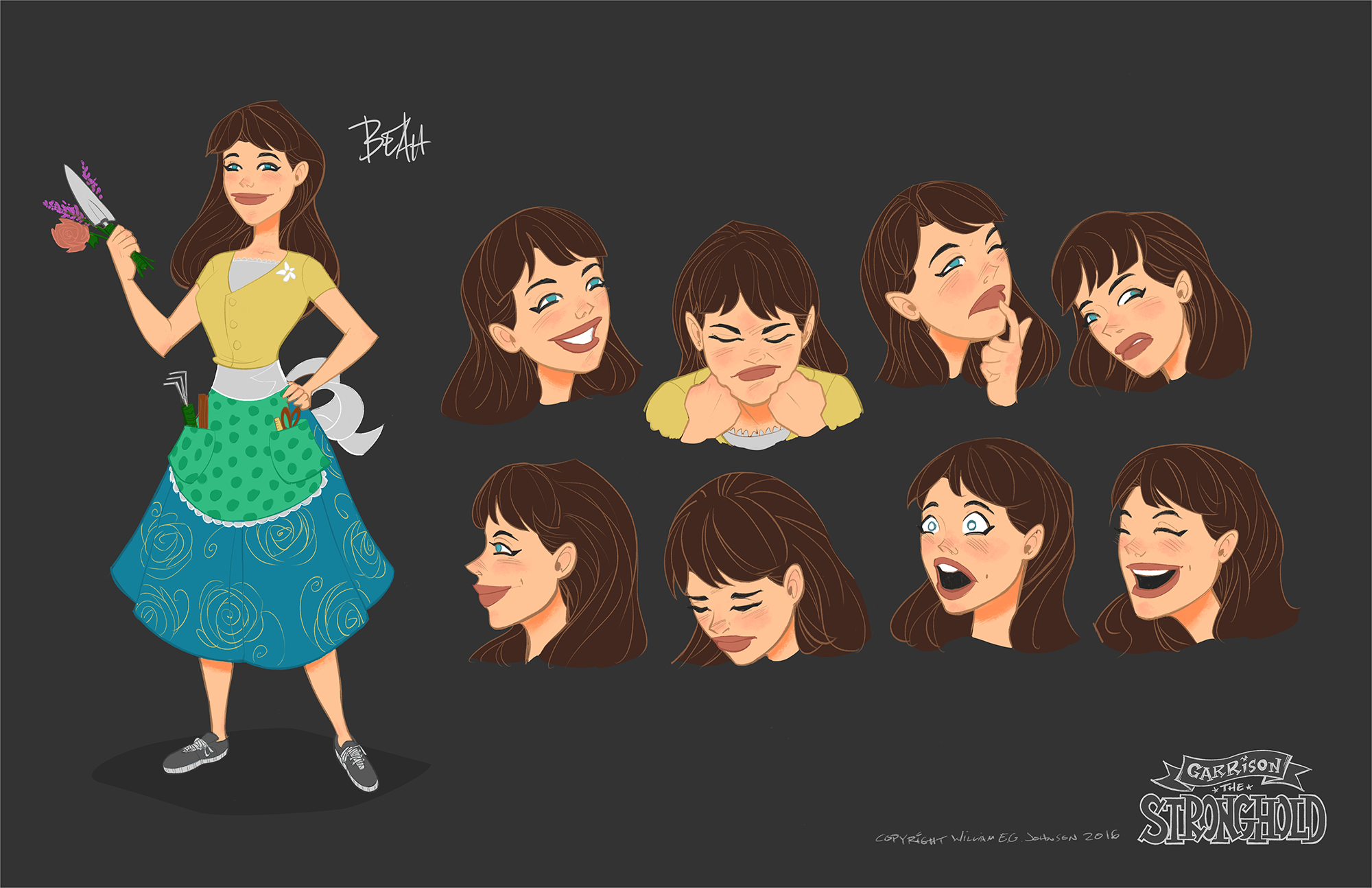 Beah is loving, caring, servant heart, good, a busy body who just loves doing things for her family and to make their home more beautiful. Beah loves cooking and coming up with wonderful things to eat, planting and curating the garden and watching it grow.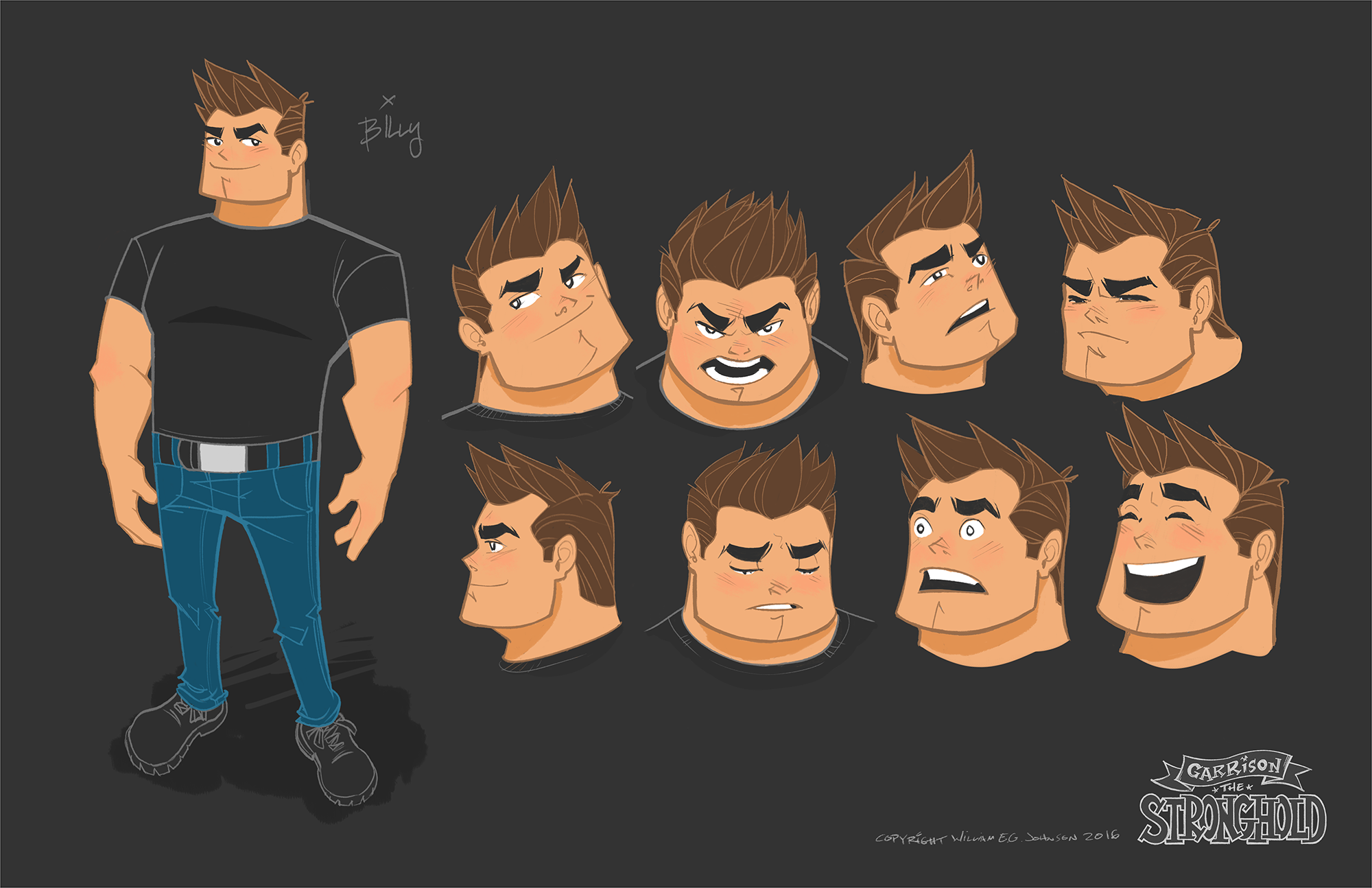 Billy is loving, caring, strong but gentle, silly at times. Billy loves God and taking care of his family and doing what he can to watch out for them. He loves creating things, laughing, and spending time with those he loves.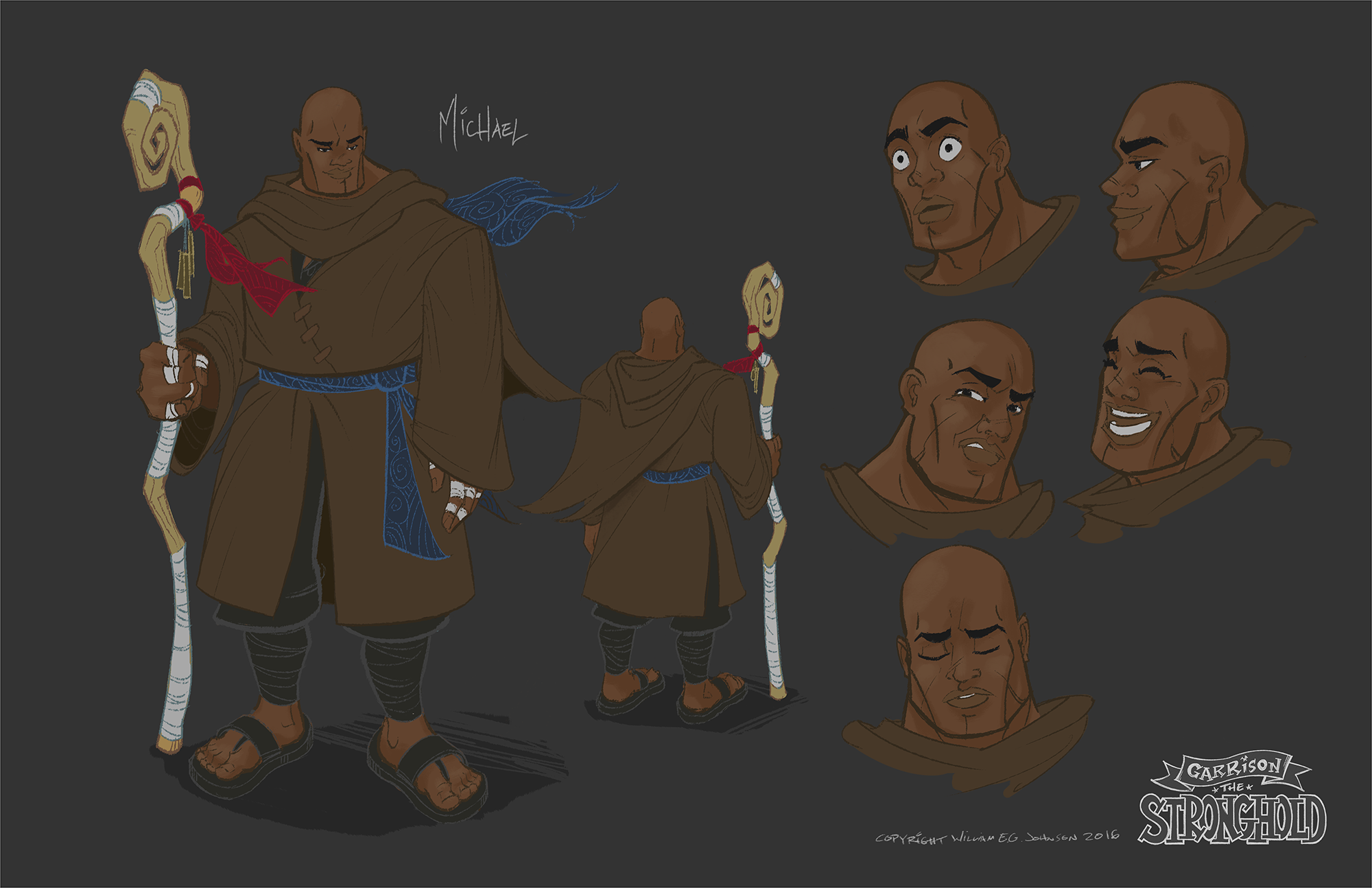 Loving, caring, strong but gentle, one for few words, Michael deeply loves and appreciates the Lord and everything that He has created. Now that he no longer has to lead God's army he is retired in a sense, enjoying all the things that the Lord has created, loving the Lord and enjoying his boat the Lord has given him. Michael is massively tall and wide in stature, his robes and ribbons drape on him and flow off to give a sense of airiness almost like wings. His ribbons have hints of middle eastern/asian decoration for additional embellishment.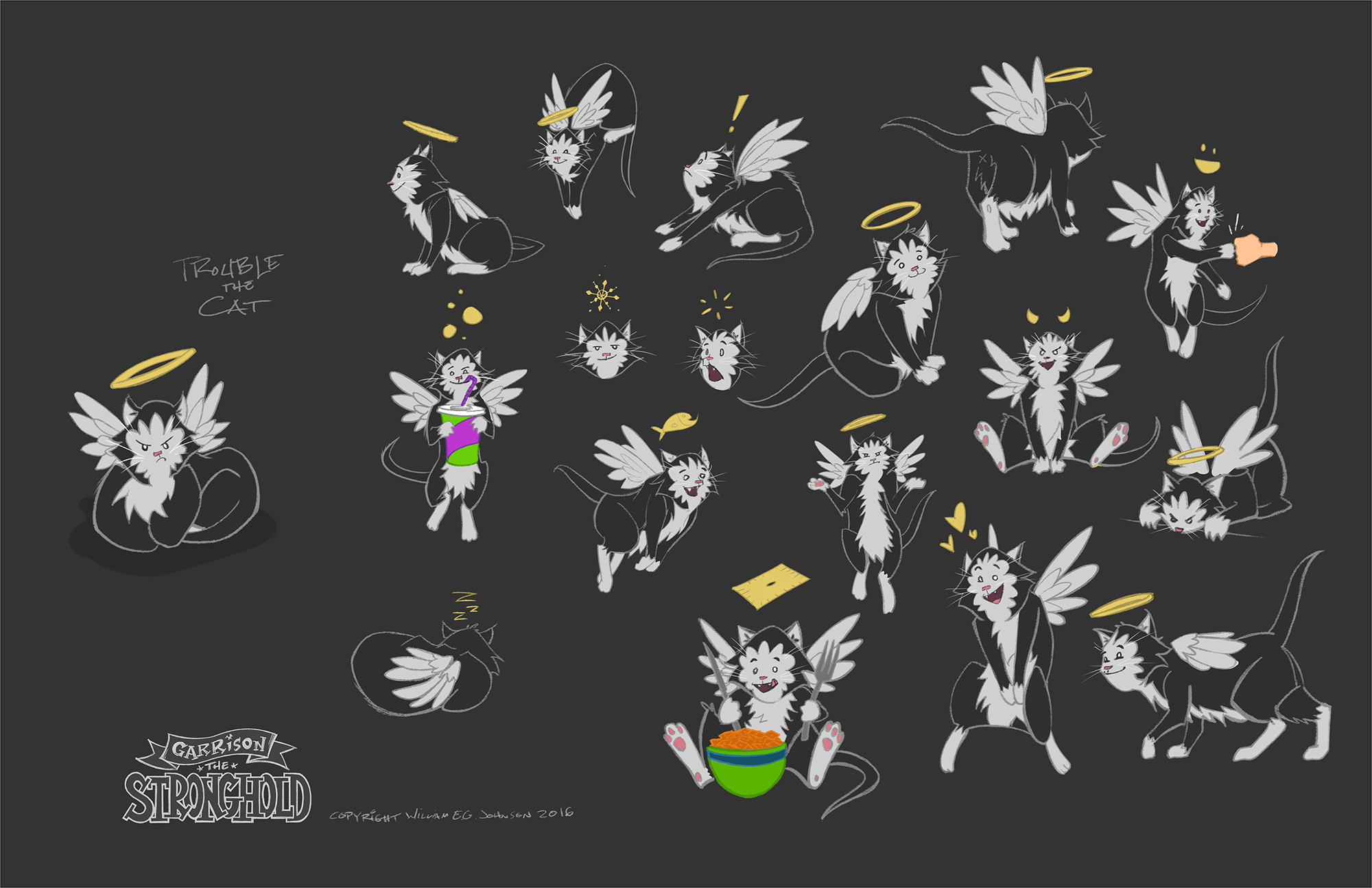 Trouble is deeply affectionate of everyone but especially the Strong family, Garrison and Billy. He is motivated by warmth, cheezy-itz crackers, being near the people he loves and being close to them. He also loves clawing, kneading, basking in the sun, and wiping his nose wherever he can. His angel wings keep him lazily afloat while his halo changes shape to reflect his mood.
Hope you enjoyed these character designs, I will have more chapter line-ups and character designs to come!